Covid-19 Testing
PCR, Rapid Test and Home Kits Available. No Appointment Required.
Walk-in testing hours are Monday – Friday (9:30am – 6pm) and Saturday (11pm – 3pm). Report and invoice will be provided.
Rapid test results in 20 minutes.
RT PCR test results available within 24 hours (as early as same day).
PARKING
Please park in the lot indicated below for COVID-19 Testing. Additional parking also available.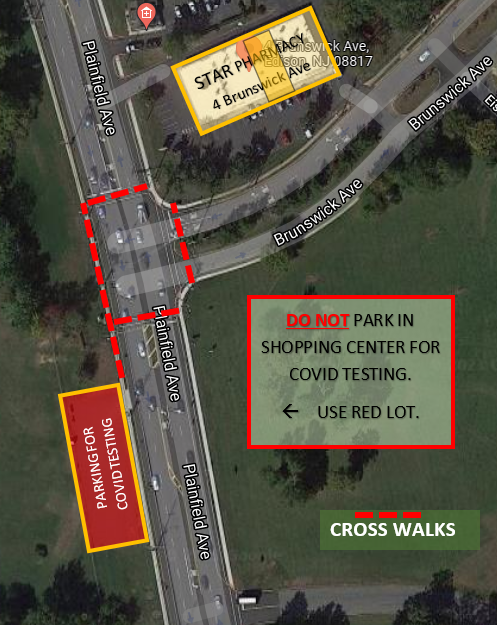 What documents are required?
Photo ID is Required
Insurance info is required ONLY if you have insurance.
Travel ticket is required if you plan on travelling
Is a prescription required?
Prescriptions are NOT required for Covid-19 testing.
How do I get the report sent to a Doctor?
If you need the report sent directly to your physician, please CALL the pharmacy and have the DOCTOR NAME and FAX # available.
Pharmacy: 732-777-1717
Is an appointment required?
NO, appointments are not required.
When is the testing appointment?
Appointments are not required.
How long does it take for results?
Results should be expected within 1 business day.
Rapid test results are available in 15 minutes.
No testing is performed on weekends or holidays.
Where is testing performed?
Staff will assist you in performing the test inside the pharmacy. Please check for signs to indicate the front or back of the pharmacy. Park cars in assigned parking lot. 
How is the COVID test performed?
The COVID-19 test is a self-administered nasal swab PCR test. Pharmacy staff give you the materials, guide you through the entire process and collect the samples.
How do I receive results?
Test results are delivered via the email provided in the appointment form.
Are at-home test kits available?
Yes, kits are available for purchase in the store.